Wednesday, April 13th, 2011
---
12:12 pm
- neat
I came on here out of nostalgia and was quite surprised.

1) My account still exists.
2) 2 of my friends still use their journals.
Monday, June 26th, 2006
---
10:14 pm
- ummmmmm
I GOT A PUPPY!!!!!!!!!


Friday, April 21st, 2006
---
7:58 am
Friday, February 10th, 2006
---
12:01 pm
i think i forgot to mention but
tonight at the opolis at 9pm
battle of the mythological beasts
featuring year of the jackalope, the separation
and a special opener: sgt cloud (they're new and they're pretty cool)
and a comedy act
there will be cookies toys and videos so show up
7 bucks
Sunday, February 5th, 2006
---
2:09 pm
Awwwwwww it's almost springtime, park season! Time to step outside and breathe the acid afterbirth of engines and mass production. To view the glory of concrete parasites and gardens of sun bleached aluminum cans. To splash through the vibrant rainbow rivers of oil and stay up late laying in fields of pesticides trying to catch a glimpse of the bright stars burning beyond the brown blanket that covers our city. God bless us all.
Thursday, January 12th, 2006
---
7:33 am
- TONIGHT


seven bucks

9:00pm

113 N Crawford
Thursday, December 22nd, 2005
---
10:39 pm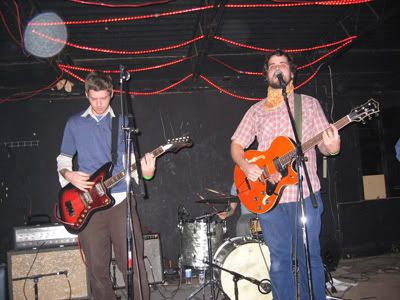 Year of the Jackalope

is playing with




Jason Anderson

at the Opolis

on Jan 12th

Only 7 bucks.

I'm letting you know in advance because Jason Anderson is awesome.
Last time he played here we all ended up singing on the street.

Don't miss it.

current mood:
jubilant
Friday, December 9th, 2005
---
9:23 pm
Friday December 16th 8:00
Kabaret Falschtanz
Sergeant Cloud
The Separation
Year Of The Jackalope

probably five bucks or something
i don't know

i guess that's the lineup

so yoj and separation are opening for a band of 16 year old kids playing their second show? how about that
and a caboret group too.

we haven't decided whether we want to play a set or just make noises for 30 minutes
Thursday, December 8th, 2005
---
1:16 pm
- stolen from spacegirl_spiff
Oh Great Cthulhu!
I have been an extremely assiduous devotee this year.
In September, I defiled the grave of that traitor, Lovecraft (90 points). In May, I called down the wrath of Yog-Sothoth upon
tellmeyarns (65 points). Yesterday, I stopped
kimya_dawson from defiling Lovecraft's grave (-20 points). In July, I sacrificed
kimya_dawson to Cthulhu (500 points). Last week, I fed
indyofdoom to a Shoggoth (250 points). In April, I bombed a cultist gathering (-100 points).

In short, I have been very good (785 points) and deserve the honour of having my body used as a host for one of your servitors.

Your humble and obedient servant,

pop_action_hero



Submit your own plea to Cthulhu!
Saturday, November 12th, 2005
---
4:59 pm
- photo by erin

I've always wanted to be in a photo with lindsay and momo
Thursday, November 10th, 2005
---
1:22 pm

this one was too big to scan
Saturday, October 29th, 2005
---
11:40 pm
Wednesday, October 26th, 2005
---
9:16 pm
Sunday, October 9th, 2005
---
3:04 pm
Friday, October 7th, 2005
---
11:40 am
TONIGHT!!!
at 9:00 PM
at
Rampage Studios
2412 N Shartel
Oklahoma City, OK 73101

Ghost of Monkshood
Son of Sam Walton
Year of the Jackalope
(ALL AGES!!!)
$5 door

IT'S GOING TO BE FUNTASTIC!!

--EDIT--
CANCELLED
Saturday, October 1st, 2005
---
2:51 pm


OCTOBER 6TH AT THE OPOLIS
THE ALLIES
W/ YEAR OF THE JACKALOPE
$5
STARTS AT 10
THE OPOLIS
Wednesday, September 14th, 2005
---
9:22 pm
- It's been a whle
I hope everyone has been oh so wonderful!

Some stuff for you:

Tomorrow night Year of the Jackalope is opening for Forty Minutes of Hell at the Student Union
in the Will Rogers food court.
This will be a hurricane relief dropoff spot for Victory House so bring some goodies!
Donations begin at 8, music begins around 9
You should go.

Other shows:
October 6th at the Opolis with the Allies
October 7th at Rampage Studios with son of sam walton and Ghost of Monkshood

Fun shows!

I tried to paint some pictures.



(

here are my first threeCollapse

)
Tuesday, May 31st, 2005
---
8:22 pm
Monday, May 30th, 2005
---
2:54 pm
- Memorial Weekend Road Trip 2005
So we crossed over the Arkansas border and came across a carnival where we traveled into the Ghost Pirate Cave. It was horribly frightening. Skeletons and spider webs, severed heads and screeching noises.. Just when I thought we were going to be blown up forever we broke through the doors back to sunlight and after a while my nerves settled back down. Seriously, I'm not just pretending it was scary. The whole 45 seconds of that ride was like.. scary as heck.
Then we made it up to Eureka Springs where we camped at this crappy little camp called Kettle Camp where they had 2 dollar bottomless ice cream which made for a nice trashy social. Then we built a fire a sang songs all night and that was fun. The next morning we went to Cosmic Cavern where we played with little kittens and enjoyed a cave tour led by a 13 year old girl who tried really hard to sound like she knew what she was talking about and make us laugh with scripted jokes.
After that we went back to Eureka Springs and hung out downtown where we ran into friends from Norman, tried on a lot of hats, and enjoyed cheese pizza that tasted like giant pretzels.
After that we decided to head back home early and camp somewhere on the way. We took highway 20 south to I-40 so we could go through Ozark National Forest. It was incredible but it started raining so we didn't get to hang out there or camp. But it was still fun. I look forward to going back sometime soon.
Then we made it back to Norman.
Fun times.
I'll post a few pictures later. We didn't get many because the batteries in the camera died.
But I do have a 40 oz Mickeys which you can't get in Oklahoma. So that's radical.
I hope everyone had an equally enjoyable weekend!
Tuesday, May 17th, 2005
---
6:36 pm
with lindsay's help i have become....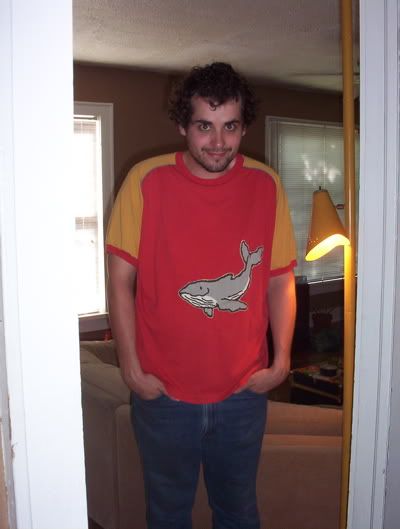 WHALE SHIRT MAN!